We Service and replace all lifejackets (all sizes) when necessary
INFLATABLE (SOLAS and pleasure)
FOAM (SOLAS and pleasure)
Compact, comfortable and unobtrusive. Comes complete with an integral crotch strap, light fitting point and protective stowage bag.
The Kru XS lifejacket is lightweight and comfortable providing 175N of buoyancy and inflation.
Complete with integral sprayhood and a heavy duty cordura cover, this lifejacket has been specifically designed
with the professional yachtsman in mind.
Kru Child & Junior Jackets
The Kru Child lifejacket has been designed for children from 15-30kg in weight. The Kru Junior lifejacket has been designed
for children from 30-40kg in weight.
Features
* 160N buoyancy
* 38g cylinder
* Sprayhood
* Light fitting point
* 2 x integral lifting beckets
* Removable cover
* 2/3 bar buckle
* Crotch strap
* Clothing toggles
* Zip closure
* High visibility stole
* Oral tube
* Retro tape & whistle
* Made in the UK
* ISO 9001-2000 Manufactured.
 Child & Junior lifejacket PDF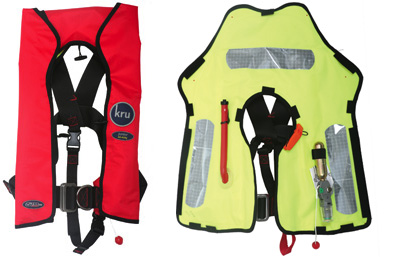 Offering a superior 175N buoyancy, this waistcoat style lifejacket has been designed to be comfortable and
unobtrusive when worn over prolonged periods.
Offering 305N buoyancy, this lifejacket provides an affordable high quality option that is still lightweight and compact.