THE DIFFERENT TYPES OF FIXED FIRE EXTINGUISHERS FOR YACHTS
FIXED FIRE EXTINGUISHER FM-200 - APPROVED PLEASURE SAILING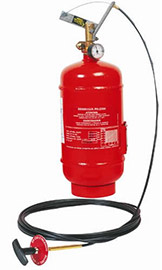 Weight 60 kg. Halon gas is strictly prohibited in fire systems since 1 January 2004 (Commission of the environment – Decree No. 2037 of 29/06/2000). To replace those, here are the fixed fire extinguishing FM-200.
Dimensions identical to the old series XPG halon. Direct installation in the engine compartment in an upright or horizontal position.
Comes with valve with a pressure gauge, fixture, diffuser and instruction to pull the handle from the helm.
GAS FIXED FIRE EXTINGUISHER FOR YACHTS WITH REMOTE CONTROL
Specially designed for the protection of boats. Equipped with a valve with remote control allowing to safely extinguish fires happennig in closed rooms (engine compartment).
Gas extinguishing causing no damage to facilities and premises.Can be used on electrical and electronic lights. 
According to EN ISO 9094-1. Consistent CE0029PED bottle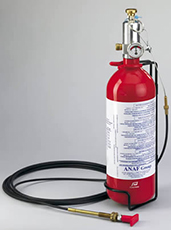 CLEAN AGENT
CYLINDERS
SYSTEM ACTIVATION
CLEAN AGENT
The extinguishing agent use in all Marine Fire 740 models is Heptafluoropropane, more commonly known as FE-227. FE-227 rapidly extinguishes fire by cooling the fire to the extent that the combustion reaction cannot sustain itself. It can suppress a fire in 10 seconds or less after discharge. FE-227 does not significantly reduce oxygen levels and is safe for use in occupied spaces in accordance with US EPA guidelines. FE-227 can be removed from the protected space by simply ventilating the space after a system discharge.
It is, non corrosive, and leaves no residue or collateral damage. It has a minimal impact on the environment when compared with that of a major fire or other traditional agents such as Halon: the ozone depletion potential of FE-227 is zero, and it has a reduced estimated atmospheric lifetime.
CYLINDERS
SYSTEM ACTIVATION
To find how fixed fire extinguishers for yachts react in action, see the processus below:

The release of CO2 in the protected space (Engine Room) is controlled from:
Upper deck (Remote Control Box)
Tender garage or CO2 Room (Local Control Box)
The system extinguishes fires by totally flooding the protected space with carbon dioxide(CO2). It is a non-corrosive, non-poisonous gas, but will cause suffocation if a person is exposed to the gas. For this reason, protected spaces must be vacated prior to system discharge and the well aired/ventilated before accessing the area again after the system has been released.
The system's potential, i.e. amount of agent available for discharge, has been calculated according to the gross volume of the largest compartment. The Engine room space requires a minimum 40% saturation of CO2 in order to adequately extinguish a fire in the protected space.
The steel cylinder has been tested at the pressure of 250 bar to standard requirements.
Contact us for an estimate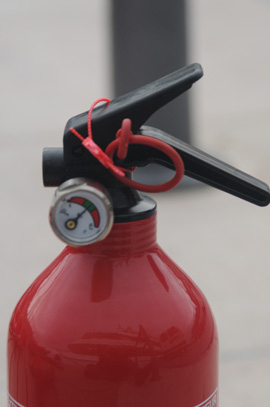 Watch our video and see what a fixed fire extinguisher for yachts CO2 when it's in action.
Thanks to the entire crew of the yacht Crystal 1 to allow the filming of this video.